Upcoming YA Book Events in March & April
1:25 PM
Are you ready to mark your calendars? Here are some upcoming Canadian YA book events to look forward to attending in March and April!
Rachel Hartman
Canadian author Rachel Hartman will be celebrating the release of Shadow Scale, the long-awaited sequel to the New York Times bestselling Seraphina, with an event at the Toronto Public Library!
Friday, March 20 at 7pm ~ Lillian H. Smith branch, the Merril Collection of the Science Fiction, Speculation & Fantasy, of the Toronto Public Library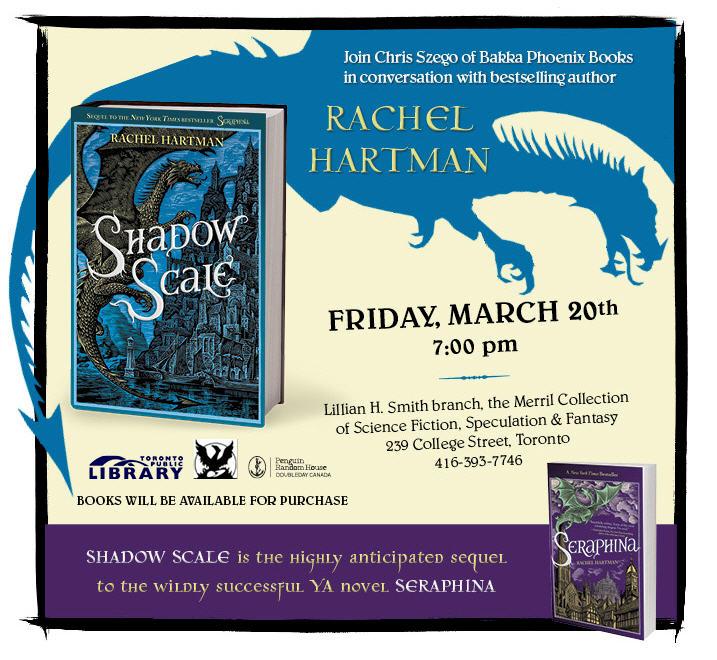 Natale Ghent
Canadian author Natale Ghent will be celebrating the release of her new YA fantasy/paranormal novel Dark Company with a book launch in Toronto!
Saturday, March 28 at 8 pm ~ Junction Craft Brewing, 90 Cawthra Avenue, Unit #101, Toronto, ON
Kelley Armstrong
Chapters/Indigo will be hosting an exclusive pre-sale book signing with bestselling Canadian author Kelley Armstrong as she celebrates the release of Empire of Night, the second book in her Age of Legends series!
Saturday, April 4 at 2pm ~ Chapters Oshawa, Oshawa, ON.